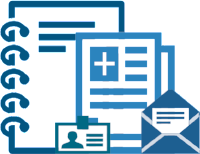 Identify Your Goal, Audience & Desired Outcome
Although professional printing can go a long way toward creating a great impression, the best measure of your promotional piece is the results it delivers.
Be sure your marketing materials are as powerful as possible by following a few basic guidelines, here at IMP Gilbert, we take time to talk to our clients to find out what exactly they're looking for in a marketing piece.
Know Your Audience and Set a Goal
Whether you're introducing a new product, promoting an idea or simply creating awareness of your organization, start with a thorough understanding of your target audience, and a clear picture of what you want that audience to do.
For example, do you want recipients to:
Visit your store?
Order a promotional item?
Sign up for your mailing list?
Refer your company to a friend?
Ask Your Readers to Take Action
Be sure that your message is clear and that it is written with your readers' interests and needs in mind. When appropriate, include a clear "call to action." This is a simple statement that tells readers exactly what you'd like them to do, and how they will benefit from performing the desired action.
For example:
"Call now and get a free...."
"Attend the conference to learn strategies for...."
"Order now and become eligible to win..."
Use Good Design to Promote Readability & Reinforce Your Message
Once you've developed a strong message, one with a benefit and a call to action, use well-thought-out graphic design to help set the tone for your message, and make it easy to understand. Call us today or stop in to set-up a one-on-one to get your next marketing material designed and printed today!